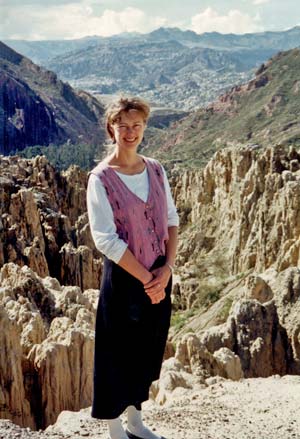 Barbara Knutson: 1959–2005
Barbara Knutson was born in South Africa as the child of American missionaries. Drawing, reading, and "making things" were her favorite pastimes, and animals, wild or tame, were her favorite subject. She was twelve when her family moved to the United States. After high school in Bloomington, MN, Barbara attended St. Olaf College and the University of Minnesota. With degrees in Art Education and French, she went to Nigeria to teach at an international school for two years. But reading, drawing, and "making things" prevailed, and on returning to the United States she wrote and illustrated her first book, Why the Crab Has No Head. A trip to Tanzania led to two more African animal tales: How the Guinea Fowl Got Her Spots: A Swahili Tale of Friendship and Sungura and Leopard: A Swahili Trickster Tale.
For two years Barbara lived in Lima, Peru, where her husband Chris Jensen taught biology. Hiking and traveling in Bolivia and Peru, she learned an Andean trickster tale that eventually turned into the picture book Love and Roast Chicken.
Barbara passed away in May 2005. She will be greatly missed by many people around the world.