How the Guinea Fowl Got Her Spots, A Swahili Tale of Friendship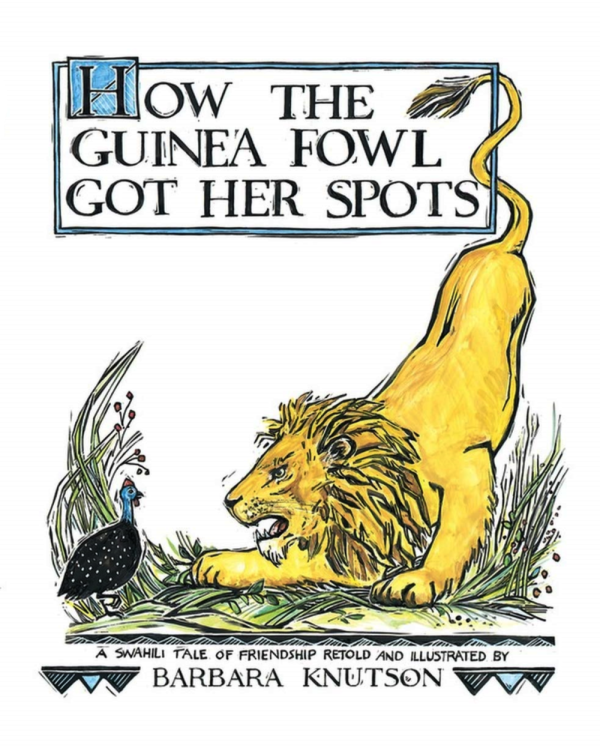 Carolrhoda Books, 2004. 
Hardcover ISBN: 978-0876144169
Paperback ISBN: 978-0876145371
A guinea fowl and a cow against a lion? What chance have they got? With great courage and a beautiful disguise, the two friends keep each other safe. To this day the guinea fowl has milky white spots (and a loud voice).

Have you ever seen a guinea fowl? It's obvious those clean white spots on the shiny black feathers need an explanation! African storytellers took the time to observe animals and people very carefully, and sometimes made up explanations like this just for fun.
You can make up your own "pourquoi" tale to explain how an animal or some part of nature got to be the way it is today. If you tell how an animal got its color or stripes or spots, see if you can avoid the two most common ideas: magic or paint. What else could change an animal's color? Mud, rain, tears, fire, ashes, fingerprints … or maybe milk!
What is a pourquoi story?
Pourquoi means "why" in French. These stories tell how or why something got to be the way it is today. Why do cats purr? Why do we see stars at night? Why do volcanoes erupt?
Pourquoi tales have true parts (e.q. what an animal acts like or how it looks) and made-up parts (how it got that way).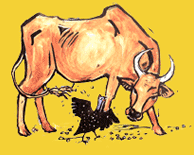 Awards and Reviews for Love and Roast Chicken
"An endearing retelling of a Swahili story, in which Ms. Knutson has woven together the elements of a wonderful friendship and a traditional 'explanation' folktale to create a fine and appealing new story."
— The New York Times
Minnesota Book Award, Picturebook
CBC-NCSS Notable Children's Trade book in the Field of Social Studies
Bulletin of the Center for Children's Books Blue Ribbon