Love and Roast Chicken, A Trickster Tale From the Andes Mountains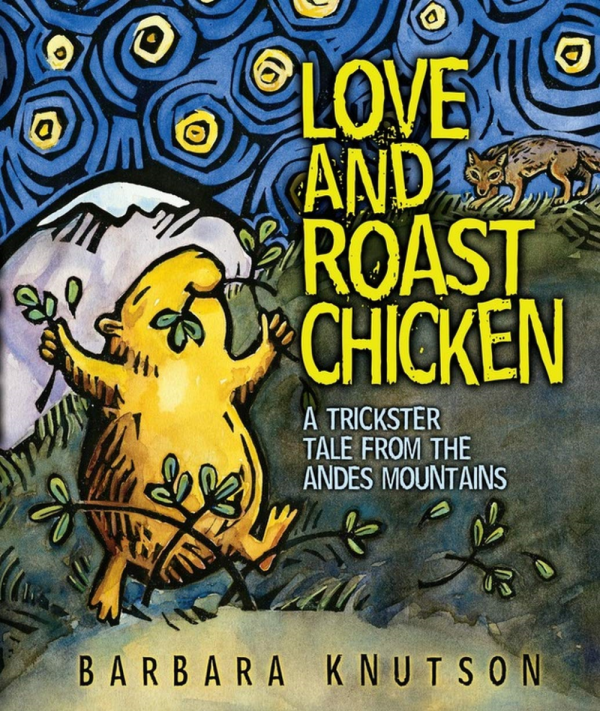 Carolrhoda Books, 2004. 
Hardcover ISBN: 978-1575056579
Spanish Edition (Amor Y Pollo Asado), 2005
Hardcover ISBN: 978-0-82253-190-6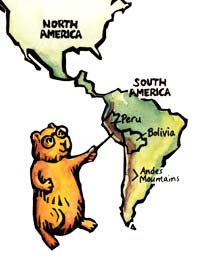 I lived for two years in Peru, where my husband Chris taught biology at a school in Lima, the capitol city. For two years, not one day passed for me without an interesting sight or person or event. Just buying a popsicle could turn into an adventure (partly because I had to do it in Spanish). Whenever we got a chance we would travel around Peru or Bolivia or Ecuador to visit the mountains, the desert, the Pacific coast or the rainforest. We traveled by bus and car and train and plane and boat and foot and llama (actually, llamas can't carry grown-up people, but they carried our packs in the high mountains. Gracias, llamas!).
Traveling in South America you are guaranteed to meet all kinds of friendly and fascinating people. It's the best part of being there! Of course I always had my sketchbook with me so I could write and draw what I learned along the way, including many stories about the fox, and one special story about Cuy ("Kwi") the guinea pig.
What would the illustrations look like for a book about Cuy? I made dozens of pictures to find out! I tried scratchboard, colored pencil, watercolor and gouache (opaque watercolors). Finally I decided on rubber-cut prints and painted them with watercolors. To draw the mountains and the fields and the characters I had to pore over all the photos and sketches of our wonderful time in South America. It filled me with such longing I would dream at night of being there again.
Making friends in any language
The next time you take a trip, even a short one, try bringing a sketchbook instead of a camera so you can draw and write what you observe. I found that whenever I sit and draw, people come up to chat (even if we don't speak the same language), and sometimes they draw a picture for me or I draw one for them. That's what you can see in the photograph at the end of Love and Roast Chicken—three little shepherd girls who came over to talk with me while we were hiking very high in the Andes Mountains.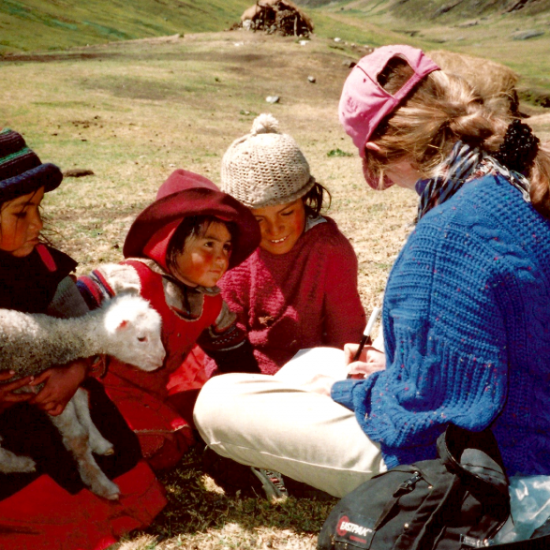 Awards and Reviews for Love and Roast Chicken
"(A) delightfully sly Peruvian folktale…Knutson's robust prints, characterized by heavy black lines and subdued colors, are remarkably effective in conveying expressions and humor."
— Starred, Horn Book
"An all-around, laugh-out-loud delight."
— Starred, Kirkus Reviews
"Lean nuggets of rollicking text read equally well before a group or by oneself, and Cuy's sassy rejoinders make this Brer Rabbit analogue an engaging standout."
—The Bulletin of the Center for Children's Books
"Knutson's boldly outlined, vibrant woodcut-and-watercolor artwork captures the mischievous nature of the guinea pig. Observant children will delight in the visual and cultural details and in the energy of these illustrations. A thoroughly enjoyable tale that deserves a place in most libraries."
—School Library Journal
"An appealing tale of a trickster being tricked, this has solid child appeal."
—Booklist
Automatically Yours – CATS Awards 2004
Booklist Reviews 2004 September #2
Bulletin Of The Center For Children's Books – October 2004
Bulletin Of The Center For Children's Books-Recommended Titles 1996
CLS Basic Picture Books – Fiction (1999)
Children's Catalog – 2005 Supplement 18th Ed
ForeWord Magazine Reviews 2004 September/October
Horn Book Guide Reviews 2005 Spring
Horn Book Magazine Reviews 2004 #6
Horn Book Magazine Starred Review Titles
Junior Library Guild Selection
Kirkus Reviews 2004 August #1
Kirkus Starred Reviews 6/89
Maryland Black Eyed Susan Picture Book Award Nominees 2003-04
North Carolina Children's Book Award Nominees 2004-05
Notable Children's Books 1997 (And Ongoing)
Pennsylvania Young Readers Choice Book Award Nominees Grade K-3 2003-04
SLJ Reviews 2004 November
School Core – Elementary – Level 3 Nonfiction
School Core – Elementary – Level 4 Nonfiction
School Library Journal Starred Reviews – 1992
School Selection Guide Core Issue: All Titles K-6 (2005-06)
School Selection Guide Core Issue: All Titles K-6 (2006-07)
School Selection Guide Core Issue: Nonfiction Titles To Order K-6 (2005-06)
School Selection Guide Core Issue: Nonfiction Titles To Order K-6 (2006-07)
Washington Children's Choice Picture Book Award Nominees 2004