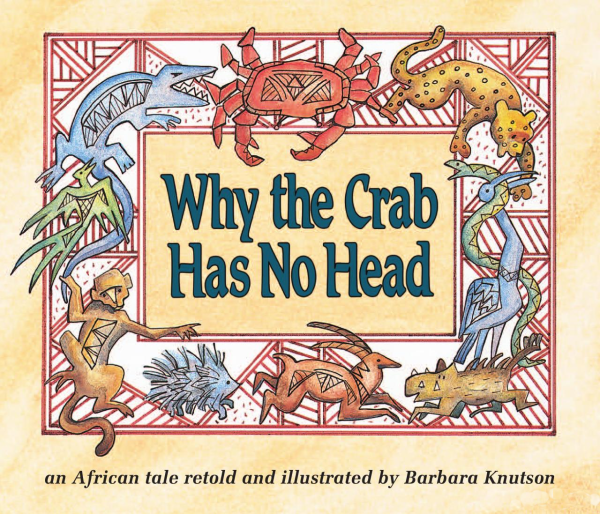 Carolrhoda Books, 1987
Hardcover 0-87614-322-2
Paperback 0-87614-489-X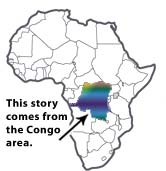 A Bakongo creation tale tells how very first crab brags that he will turn out finer than all the other wonderful animals Nzambi Mpungu has made. Traditional African society taught that it was important to support each other and make the whole community stronger, not just think of yourself. Self-confidence may be rewarded, but boasting is frowned on. So, in her great wisdom, Nzambi Mpungu never gave that crab a head at all, and he still walks sideways with embarrassment about all that bragging.
This was my very first published book. I wanted to draw and write about animals and Africa, two of my favorite subjects. I knew this story would be fun to illustrate. It's a story about the creation of all the animals, so I could put in any creature I'd like to draw. You can find all my favorite African animals in the pictures: kudu, warthog, giraffe, leopard, elephant, guinea fowl (yes, I have a lot of favorite animals) and my favorite animal to have in the house (none of the above): a dog.
"Why didn't you color in the pictures?" children often ask. When I looked at African art for ideas, I found many examples were in just two colors—black designs scratched or burned onto brown wood or yellow gourds. They looked simple and powerful and beautiful. So I decided to scratch my illustrations onto scratchboard – just white lines on black ink.

You can buy scratchboard with lots of colors under the black or just white underneath. Scratch the black away with stick or a paperclip. Great for night and underwater scenes!
The heritage of African tale spinners
Who made up this story in the first place? A real folktale is told so many times that no one knows who started it. A folktale belongs to everyone who ever told it out loud, thousands of people over hundreds of years and thousands of miles. That's why I know without question that I wanted to dedicate my very first book to all the nameless storytellers of Africa, with thanks and awe for what they created together.
I am still awed and thankful.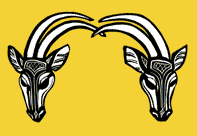 Awards and Reviews for Love and Roast Chicken
"Dramatic black and white illustrations."
— The New York Times

"Black-and-white woodcut-like illustrations provide a striking accompaniment to a creation tale…with each page handsomely framed in patterns of animals, birds and geometric designs. The effect is brilliant."
— The Horn Book

"This exuberantly told tale of hubris will be a welcome addition to the read-aloud repertoire."
—School Library Journal
Chicago Book Clinic Honor Book
Eagle Gallery Exhibit, New York
Minnesota Book Award finalist